*Please note, I am currently on maternity leave and am not accepting new 1:1 clients. I will be resuming sessions in June 2022. I invite you to visit my online shop for journal prompts for purchase and free worksheets as custom coaching resources for you to work on independently!
Investing in coaching is a decision that is totally unique for each individual. Only you will know if it's right for you, but I'll share a little more about my services and how they might benefit you!
The relationship between a coach and client is co-creative, meaning that we both have an active role. I am not a therapist or a consultant. I'm a trained professional using honed communication skills to serve as a source of support and an objective thinking partner. I help you cut through the noise, get aligned with yourself, and work with you to take dynamic actions towards your goals.
---
Packages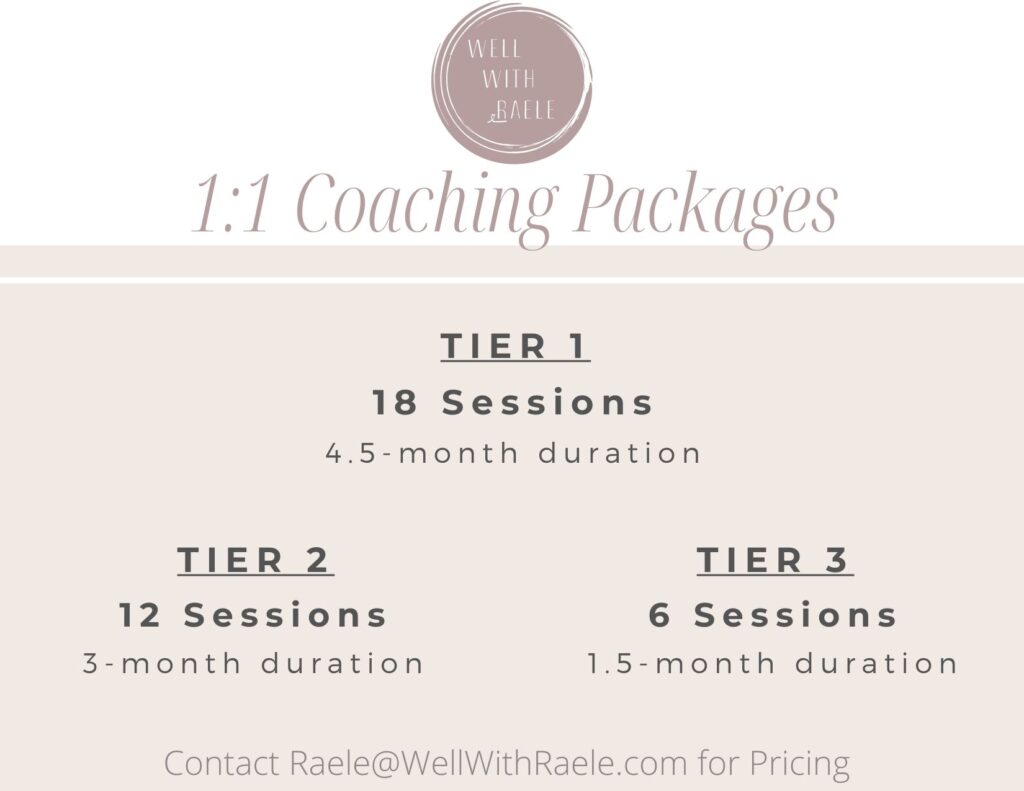 ---
Why Hire Raele as a Coach?
You're looking for solution-based support & accountability when it comes to setting goals and exploring opportunities
You want to build inner confidence and practice self-love, while letting go of what doesn't serve you
You'd like to become a better communicator and advocate for yourself in various aspects of your life
You're interested in sharing thoughts & ideas with an objective, non-judgmental 3rd party
---
What Do You Get as a Client?
Dedicated weekly 1:1 coaching sessions
Access to exclusive, custom-made worksheets
Email recaps & highlights after sessions
Relevant articles & resources shared after sessions as needed
Check-ins via text/email to maintain accountability
---
Success Stories
Real coaching, real results! Well With Raele clients:
Have received job promotions & salary raises
Have secured interviews & new job offers
Demonstrate increased confidence when speaking up, setting boundaries, and communicating
Have been connected to each other for networking opportunities
Demonstrate increased confidence and self-respect when dating & putting themselves out there
Read through more inspiring Client Testimonials here!
---
I offer 45-minute consultation sessions for a $35 fee for all potential first-time clients.
If you choose to sign on as a paying client, this fee will be applied to a coaching package of your choice.
Please inquire here if you're interested in working together and getting more information on pricing.